The Cueball Period is one of the periods of the xkcd comic Time within the Pre-expansion Era.
It lasted from frame 88 to 104.
As Megan leaves for the first time, Cueball finishes the remaining of the sandcastle alone slowly. As he climbs down the sandcastle, he accidentally falls down and destroys a great part of the sandcastle on Frame 103. He cleaned himself and lead us into The Rebuild Period .
Book of Time pages
Edit
Page 88 Page 89 Page 90 Page 91 Page 92 Page 93 Page 94 Page 95 Page 96 Page 97
Page 98 Page 99 Page 100 Page 101 Page 102 Page 103 Page 104
Notable single frames
Edit
At frame 103, Cueball falls.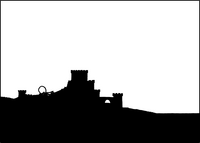 Community content is available under
CC-BY-SA
unless otherwise noted.