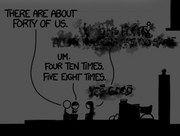 The Forty is group of people that Cueball and Megan belong to, who "live by the shore" near a river that only reaches the sea on a yearly basis.  The name comes from Cueball telling Rosetta, the leader of the Beanie people, that there are "about forty" of them.
The Forty live in what they refer to as a "camp" during the time of Time, in yurt-like "tents."  According to Megan and Cueball, they are disliked by another group of people, the people in the hills, who live nearby.
Aside from Cueball, Megan, and LaPetite, members of the Forty do not appear in Time until newpix m3016 . For many, many TimeFrames it was unclear whether LaPetite belonged to the Forty, but this was confirmed during her triumphant return when a boy of the Forty (the littlest Bangs Brother), identified her as his cousin.
Names for the Forty
Edit

Major Characters
Edit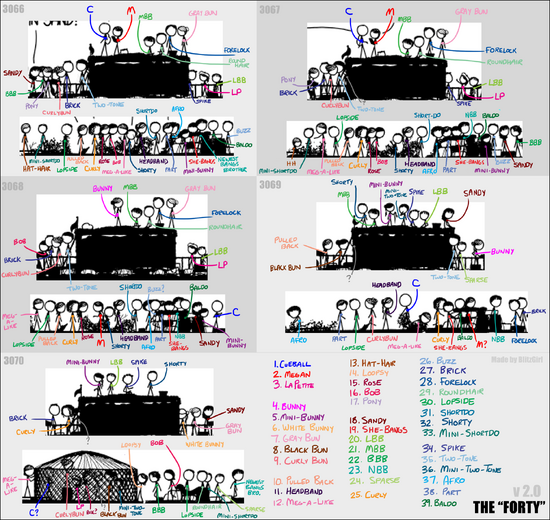 Total Character List
Edit
(Based on BlitzGirl's rough identification chart, above)
1. Cueball
2. Megan
3. LaPetite
4. Bunny
5. Mini-Bunny
6. White Bunny
7. Gray Bun
8. Black Bun
9. Curly Bun
10. Pulled Back
11. Headband
12. Meg-a-like
13. Hat-Hair
14. Loopsy
15. Rose
16. Bob
17. Pony
18. Sandy
19. She-Bangs
20. Littlest Bangs Brother
21. Middle Bangs Brother
22. Biggest Bangs Brother
23. Newest Bangs Brother
24. Sparse
25. Curly
26. Buzz
27. Brick
28. Forelock
29. Roundhair
30. Lopside
31. Shortdo
32. Shorty
33. Mini-Shortdo
34. Spike
35. Two-Tone
36. Mini-Two-Tone
37. Afro
38. Part
39. Baldo