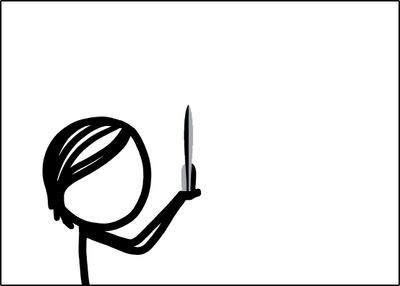 On August 17, 2014, "Time" won the 2014 Hugo Award for Best Graphic Story at the 72nd World Science Fiction Convention (WorldCon) in London.
More information about the Hugo Awards is available on the official website.
Nomination
Edit
Randall Munroe had previously been nominated for a Hugo twice before, in 2011 and 2012 for the category "Best Fan Artist," but did not take home the award either time.
On the thread, the subject of potential awards came up quickly.  The OTTer edo was the first to suggest an award, and the first to suggest nominating the OTC specifically for a "Best Graphic Story" Hugo was jjjdavidson on April 30, 2013.  Several others lauded the idea, including keithl, Eutychus, and CasCat.
On April 4, 2014, it was announced that "Time" had been nominated in the Best Graphic Story category of the Hugo awards.
Acceptance Speech
Edit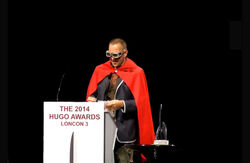 Cory Doctorow accepted the award on behalf of Munroe.  Upon reaching the podium he donned a red cape and goggles - the uniform Doctorow is drawn as wearing in xkcd comics (such as Blagofaire and 1337: Part 5 ). He read this brief speech:
Thank you so much.  This is truly an honor.  I'm sorry I can't be there in person, but Cory has been kind enough to accept on my behalf.  
Since "Time" was an animation which was published online at one frame per hour, I've asked Cory to read these remarks at one word per hour.  If it's still Sunday when you're hearing this, it means he's COMPLETELY ignored my instructions.  
Thank you to everyone who came along on the four-month journey with me, collecting information and building tools to view the story.  Thank you to all of you at WorldCon.  And thank you to Cory, for generously volunteering to stand up here and read whatever words I write on this paper.  Gazebo.  Ointment.  Harpsichord.  Credenza.  Bungalow.  
Thank you.
Video of the ceremony may be viewed here - the Best Graphic Story segment starts at approximately 1:28:00.
Speech Presentation
Edit
Fans, noting Doctorow's lack of careful instruction-following, determined how the speech ought to have been presented, given an estimated start of 9:30 pm British Summer Time and proceeding at the rate of one word per hour.  It would have finished over five days later, in the early morning hours of the following Saturday.  (Click "Expand" to view the full table.)
| Date | Time | Word |
| --- | --- | --- |
| Sunday, August 17 | 9:30 pm | Thank |
| Sunday, August 17 | 10:30 pm | you |
| Sunday, August 17 | 11:30 pm | so |
| Monday, August 18 | 12:30 am | much. |
| Monday, August 18 | 1:30 am | This |
| Monday, August 18 | 2:30 am | is |
| Monday, August 18 | 3:30 am | truly |
| Monday, August 18 | 4:30 am | an |
| Monday, August 18 | 5:30 am | honor. |
| Monday, August 18 | 6:30 am | I'm |
| Monday, August 18 | 7:30 am | sorry |
| Monday, August 18 | 8:30 am | I |
| Monday, August 18 | 9:30 am | can't |
| Monday, August 18 | 10:30 am | be |
| Monday, August 18 | 11:30 am | there |
| Monday, August 18 | 12:30 pm | in |
| Monday, August 18 | 1:30 pm | person, |
| Monday, August 18 | 2:30 pm | but |
| Monday, August 18 | 3:30 pm | Cory |
| Monday, August 18 | 4:30 pm | has |
| Monday, August 18 | 5:30 pm | been |
| Monday, August 18 | 6:30 pm | kind |
| Monday, August 18 | 7:30 pm | enough |
| Monday, August 18 | 8:30 pm | to  |
| Monday, August 18 | 9:30 pm | accept |
| Monday, August 18 | 10:30 pm | on |
| Monday, August 18 | 11:30 pm | my |
| Tuesday, August 19 | 12:30 am | behalf. |
| Tuesday, August 19 | 1:30 am | Since |
| Tuesday, August 19 | 2:30 am | "Time" |
| Tuesday, August 19 | 3:30 am | was |
| Tuesday, August 19 | 4:30 am | an |
| Tuesday, August 19 | 5:30 am | animation |
| Tuesday, August 19 | 6:30 am | which |
| Tuesday, August 19 | 7:30 am | was |
| Tuesday, August 19 | 8:30 am | published |
| Tuesday, August 19 | 9:30 am | online |
| Tuesday, August 19 | 10:30 am | at |
| Tuesday, August 19 | 11:30 am | one |
| Tuesday, August 19 | 12:30 pm | frame |
| Tuesday, August 19 | 1:30 pm | per |
| Tuesday, August 19 | 2:30 pm | hour, |
| Tuesday, August 19 | 3:30 pm | I've |
| Tuesday, August 19 | 4:30 pm | asked |
| Tuesday, August 19 | 5:30 pm | Cory |
| Tuesday, August 19 | 6:30 pm | to |
| Tuesday, August 19 | 7:30 pm | read |
| Tuesday, August 19 | 8:30 pm | these |
| Tuesday, August 19 | 9:30 pm | remarks |
| Tuesday, August 19 | 10:30 pm | at |
| Tuesday, August 19 | 11:30 pm | one |
| Wednesday, August 20 | 12:30 am | word |
| Wednesday, August 20 | 1:30 am | per |
| Wednesday, August 20 | 2:30 am | hour. |
| Wednesday, August 20 | 3:30 am | If |
| Wednesday, August 20 | 4:30 am | it's |
| Wednesday, August 20 | 5:30 am | still |
| Wednesday, August 20 | 6:30 am | Sunday |
| Wednesday, August 20 | 7:30 am | when |
| Wednesday, August 20 | 8:30 am | you're |
| Wednesday, August 20 | 9:30 am | hearing |
| Wednesday, August 20 | 10:30 am | this, |
| Wednesday, August 20 | 11:30 am | it |
| Wednesday, August 20 | 12:30 pm | means |
| Wednesday, August 20 | 1:30 pm | he's |
| Wednesday, August 20 | 2:30 pm | COMPLETELY |
| Wednesday, August 20 | 3:30 pm | ignored |
| Wednesday, August 20 | 4:30 pm | my  |
| Wednesday, August 20 | 5:30 pm | instructions. |
| Wednesday, August 20 | 6:30 pm | Thank |
| Wednesday, August 20 | 7:30 pm | you |
| Wednesday, August 20 | 8:30 pm | to |
| Wednesday, August 20 | 9:30 pm | everyone |
| Wednesday, August 20 | 10:30 pm | who |
| Wednesday, August 20 | 11:30 pm | came |
| Thursday, August 21 | 12:30 am | along |
| Thursday, August 21 | 1:30 am | on |
| Thursday, August 21 | 2:30 am | the |
| Thursday, August 21 | 3:30 am | four-month |
| Thursday, August 21 | 4:30 am | journey |
| Thursday, August 21 | 5:30 am | with |
| Thursday, August 21 | 6:30 am | me, |
| Thursday, August 21 | 7:30 am | collecting |
| Thursday, August 21 | 8:30 am | information |
| Thursday, August 21 | 9:30 am | and |
| Thursday, August 21 | 10:30 am | building |
| Thursday, August 21 | 11:30 am | tools |
| Thursday, August 21 | 12:30 pm | to |
| Thursday, August 21 | 1:30 pm | view |
| Thursday, August 21 | 2:30 pm | the |
| Thursday, August 21 | 3:30 pm | story. |
| Thursday, August 21 | 4:30 pm | Thank |
| Thursday, August 21 | 5:30 pm | you |
| Thursday, August 21 | 6:30 pm | to |
| Thursday, August 21 | 7:30 pm | all |
| Thursday, August 21 | 8:30 pm | of |
| Thursday, August 21 | 9:30 pm | you |
| Thursday, August 21 | 10:30 pm | at |
| Thursday, August 21 | 11:30 pm | WorldCon. |
| Friday, August 22 | 12:30 am | And |
| Friday, August 22 | 1:30 am | thank |
| Friday, August 22 | 2:30 am | you |
| Friday, August 22 | 3:30 am | to |
| Friday, August 22 | 4:30 am | Cory, |
| Friday, August 22 | 5:30 am | for |
| Friday, August 22 | 6:30 am | generously |
| Friday, August 22 | 7:30 am | volunteering |
| Friday, August 22 | 8:30 am | to |
| Friday, August 22 | 9:30 am | stand |
| Friday, August 22 | 10:30 am | up |
| Friday, August 22 | 11:30 am | here |
| Friday, August 22 | 12:30 pm | and |
| Friday, August 22 | 1:30 pm | read |
| Friday, August 22 | 2:30 pm | whatever |
| Friday, August 22 | 3:30 pm | words |
| Friday, August 22 | 4:30 pm | I |
| Friday, August 22 | 5:30 pm | write |
| Friday, August 22 | 6:30 pm | on |
| Friday, August 22 | 7:30 pm | this |
| Friday, August 22 | 8:30 pm | paper. |
| Friday, August 22 | 9:30 pm | Gazebo. |
| Friday, August 22 | 10:30 pm | Ointment. |
| Friday, August 22 | 11:30 pm | Harpsichord. |
| Saturday, August 23 | 12:30 am | Credenza. |
| Saturday, August 23 | 1:30 am | Bungalow. |
| Saturday, August 23 | 2:30 am | Thank |
| Saturday, August 23 | 3:30 am | you. |
Statistics
Edit
Image of the Best Graphic Story voting results: